2019 chez OCamlPro
Authors:
OCamlPro
Date: 2020-02-04
Category:
OCamlPro
---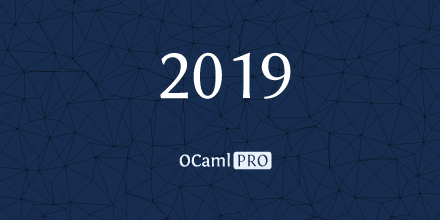 OCamlPro a pour ambition d'aider les industriels dans leur adoption du langage OCaml et des méthodes formelles. L'entreprise est passée d'1 à 21 personnes et est restée fidèle à cet objectif. L'année 2019 chez OCamlPro a été très animée, et le nombre de réalisations impressionnant, d'abord dans le monde OCaml (flambda2 & optimisations du compilateur, opam 2, notre interface Rust pour memprof, des outils comme tryOCaml, ocp-indent, et le soutien à la OCaml Software Foundation), et dans le monde des méthodes formelles (nouvelles versions de notre solveur SMT Alt-Ergo, lancement du Club des utilisateurs Alt-Ergo,lancement du langage Love, etc.)
---
About OCamlPro:

OCamlPro is a R&D lab founded in 2011, with the mission to help industrial users benefit from state-of-the art programming languages like OCaml and Rust.

We design, create and implement custom ad-hoc software for our clients. We also have a long experience in developing and maintaining open-source tooling for OCaml, such as Opam, TryOCaml, ocp-indent, ocp-index and ocp-browser, and we contribute to the core-development of OCaml, notably with our work on the Flambda optimizer branch.

Another area of expertise is that of Formal Methods, with tools such as our SMT Solver Alt-Ergo (check our Alt-Ergo Users'). We also provide vocational trainings in OCaml and Rust, and we can build courses on formal methods on-demand. Please reach out, we'll be delighted to discuss your challenges: contact@ocamlpro.com or book a quick discussion.
---